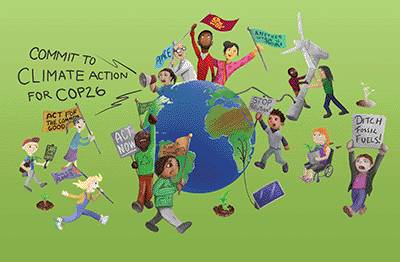 This event is in the past.
Sunday 17 October in St Mary's Parish Church at 9.45am United service for One World Week on the theme "God's Good Earth". The service is drawn from material produced by the Wild Goose Resource Group of the Iona Community, written in preparation for the UN Climate Change Conference taking place in Glasgow in November. 
It will be followed at about 11.15am by the Churches Together in Charlbury AGM. There will be a short business meeting and a talk from Mrs Marjorie Glasgow to link with One World Week and the COP26 conference on Climate Change. Margie, as she is known locally, is the founder and chief executive of an Oxfordshire- based clean energy company, which develops private/public partnerships that combine renewable energy projects and community hubs. Her firm also undertakes key environmental work for the restoration of peatlands across the UK. She is an active member of St Mary's and initiated the Cornerstone project. Margie has been appointed the new Lord-Lieutenant of Oxfordshire. 
Everyone is welcome at the service and/or the AGM.