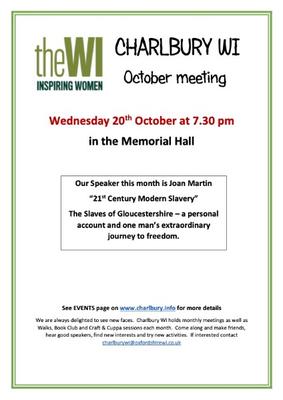 This event is in the past.
Charlbury Memorial Hall at 7.30pm
Joan Martin is our speaker for the evening giving a talk entitled, "The Slaves of Gloucestershire" - a personal account of one man's extraordinary journey to freedom.
The talk is open to all: members, free / visitors, £4.
Talk at 7.30pm, followed by a Q&A. 
After the Q&A, tea, coffee and cake will be served. 
The usual WI monthly business will take place after the refreshment break.
Any queries, please email: charlburywi@oxfordshirewi.co.uk