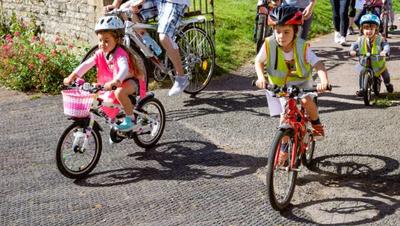 This event is in the past.
Saturday 11 September from 11.45 PUT IT IN YOUR DIARY NOW
Fifth CSA/OHCT Children's Bike Rally round Charlbury's five churches, followed by Children's Bike Gymkhana, Mass Picnic and BikeFest with e-Bike trials
Sign your child up at St Mary's any time from 11.30 to 12.45 to get route details and start any time from 11.45 to 12.45. Suggested donation £5 per child or show a valid fundraising webpage (see below).
Immediately after the Rally, weather and Covid permitting, the Charlbury School Association invites anyone (with or without children taking part in the Rally) to bring a picnic lunch and set up (suitably distanced) round the edge of the school playing field.
There the Windrush Bike Project will be organising another free bike gymkhana for ralliers. There will also be some e-bikes for people to try (see below). WBP will again also offer a free bike check and minor repair service.
All the Rally details and sponsorship info are at https://ohct.org.uk/ride-and-stride/take-part/charlbury-kids-rally/. Slots for the bike checks and e-bike trials should be booked via http://windrushbikeproject.uk/