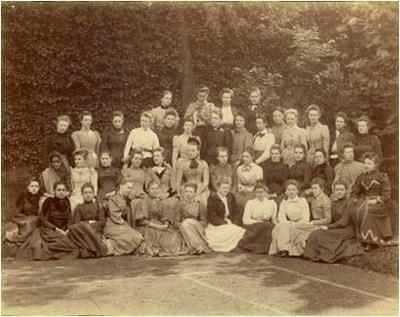 This event is in the past.
The brief Society AGM will be followed by a talk by Alice Prochaska on
 "How it became respectable to educate women: the past present and future of the women's colleges at Oxford"
The meeting will start earlier than usual at 7.45 with brief annual reports followed by election of officers and committee.  This will be followed by a talk given by Dr Alice Prochaska, historian and archivist, and former Principal of Somerville College Oxford
"It would be an ill thing, if it should so happen, that we got the advantages of a quantity of female intellectual work at the price of a puny, enfeebled and sickly race." So wrote an eminent doctor in 1874, expressing the widely held view that education was bad for a girl's health. But the pioneers of higher education for women, undaunted, were founding schools and colleges in London, Cambridge and Oxford and around the country: including the excluded and helping to open up British society systematically to female talent. Alice Prochaska's talk will explore the respectable – and not always quite so respectable—advance of the Oxford women's colleges and with them, of women in the wider world. Amongst others the work of Mary Somerville, mathematician and astronomer, Ada Lovelace the computer pioneer and Dorothy Crowfoot  Hodgkin the only British woman to have been awarded a Nobel prize for science will be discussed. 
This Zoom presentation will be for members only If you wish to join the meeting please contact the secretary sec.charlsoc@gmail.com