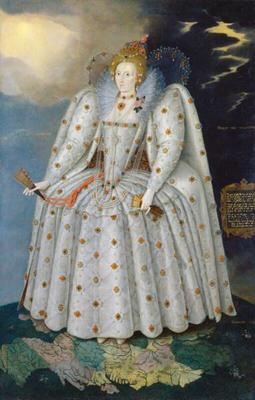 This event is in the past.
Dr Janet Dickinson
'Courting Elizabeth: The Ditchley Portrait and the Cult of the Virgin Queen in late Elizabethan England'
Thursday 4th February 7.45 for 8.00
In September 1592 Elizabeth I visited the estate of Sir Henry Lee at Ditchley. Her short visitgave rise to one of the most instantly recognisable images of the queen, looming over a map of England with her feet firmly placed in Oxfordshire. Relations between the queen and Lee had been disrupted in recent years, so the portrait and the visit can be read in part anexpression of reconciliation and renewed gratitude on Lee's part. They also cast light on animportant aspect of life and behaviour at the Elizabethan court in the form of the language and ideas of 'courtly love'. This paper will discuss the political significance of courtly love for Elizabeth I and her courtiers and the ways in which this language could be used to approach the queen.
Dr Dickinson MA PhD is a Senior Associate Tutor in History at OUDCE and Senior Faculty Advisor and Lecturer at New York University in London. Her main research interests focus on the nobility and the court in early modern England and Europe,
This Zoom presentation will be for members only 
Membership forms are available from the secretary sec.charlsoc@gmail.com
The annual subscription is £8.50; free to under 18s.