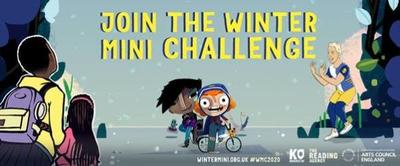 This event is in the past.
The closing date for the Winter Mini Challenge has been extended.
The Challenge now finishes on Friday 19th February 2021 so there is still plenty of time for children to get involved.
Similar to the Summer Reading Challenge, the Winter Mini Challenge is online so children need to be registered on the website: wintermini.org.uk. Then children choose a reading goal. 
To complete the challenge, they need to read, rate and review their books on the website before the end of the challenge – they can choose any books, eBooks or audiobooks they like. Rewards will be unlocked as they add their reviews, including a limited-edition virtual badge and a Reading Hero certificate they can print out and keep.
Please see the Winter Mini Challenge website for more details.