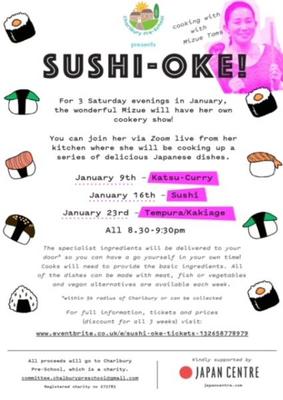 Join us online for our next culinary fundraising event, Sushi-oke! Hosted by one of our fabulously talented parents, Mizue Tams. Mizue will be guiding us through the culinary delights of Japanese cuisine through her very own cooking show. For three Saturday evenings in January, you will be able to log on with your favourite tipple and watch Mizue cooking up a storm. The Japanese ingredients will be delivered to your door (within a 5km radius of Charlbury, or you can arrange collection), so you can have a go at cooking these meals for yourself afterwards. These dishes give you the flexibility to select your main ingredients to cook with and will work perfectly with meat, fish or vegetables. You will be sent a zoom code and password via email prior to the event.
Please note: you will NOT be provided with the main ingredients within this ticket price. It is up to you to decide which you would prefer to use based on your own preferences. You will, however, be provided with all the speciality Japanese ingredients.
*It is recommended that you enjoy watching Mizue during these live events and cook your own meal at a later time.
*Sign up early to guarantee your ingredients are delivered on the weekend of the event.
*This event will last approximately one hour.
January 9th at 8.30pm - Katsu-Curry (also with vegan option)
January 16th at 8.30pm - Sushi (also with vegan option)
January 23rd at 8.30pm - Tempura/Kakiage (also with vegan option)
https://www.eventbrite.co.uk/e/sushi-oke-tickets-132659605451