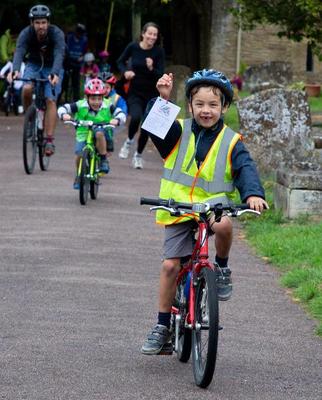 On Yer Bike – or a Scooter!
 for
Fourth Charlbury Children's Bike Rally
round Charlbury's five churches
followed by
Picnics and Charlbury's first ever Bike Gymkhana
on School Playing Field
on Saturday 12 September
starts from 11.45 till about 12.45
Covid-19 permitting the rally will again be happening this year but with some changes and improvements. To preserve some social distancing the children and accompanying adults will set off at one minute intervals, and at the end the there will be the first ever Charlbury Bike Gymkhana.
Balance bikes and scooters will be eligible for the youngest category. Like last year the routes will start at St Mary's churchyard gate. After the initial circuit round Market Street, Dyer's Hill and Church Lane children up to 7 will go up Church  Street, Sheep Street and Fisher's Lane, while the over 8s will go  via Park Street, 5-Ways and Hixet Wood. This year we are extending both routes up Crawborough to the Finish on the School Playing Field.
There the Windrush Bike Project will be organising a Gymkhana, (a series of fun tests of children's bike skills) in the middle of the field while the CSA hopes that, to celebrate  the end of lockdown and the restart of schooling,  parents will come to watch and eat their own suitably distanced picnics around the field – weather permitting of course!.
Why not get online sponsorship for your child's efforts? This will enable grandparents, uncles and aunts, and friends to lend support even if they cannot come and join in the fun themselves – and raise more money.
All children who complete their route will receive certificates and prizes. Register from 10am at St Mary's and book your start time. Minimum donation £3 per child on the day or, better, sign up online in advance and provide URL of online sponsorship page. See https://ohct.org.uk/ride-stride/take-part/ for details.
The event will again be organised jointly by the Oxfordshire Historic Churches Trust, the Windrush Bike Project and the Charlbury School Association and it will again be raising money for Charlbury School and OHCT.
Any changes to take account of government regulations or the weather will be announced on the charlbury.info website.