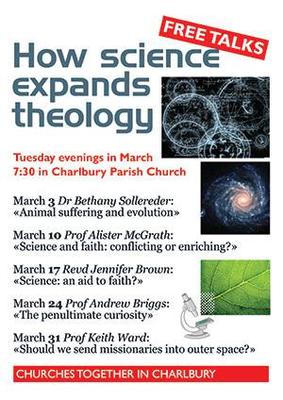 This event is in the past.
The last of this year's Lent talks will be given by Prof Keith Ward in St Mary's Parish Church on Tuesday 31 March at 7.30pm. The theme of his talk is 'Should we send missionaries into outer space?'.
Keith Ward FBA is an English Anglican priest, philosopher, and theologian. He is a fellow of the British Academy and a priest of the Church of England. He was a canon of Christ Church, Oxford, until 2003. Comparative theology and the relationship between science and religion are two of his main topics of interest. He was Regius Professor of Divinity at the University of Oxford from 1991 to 2004.
He writes:"I am, by nature and conviction, an Idealist philosopher, somebody who believes in the supremacy of Spirit or Mind, and who thinks that the material universe is an expression or creation of a Supreme Mind. I see religions as very ambiguous but probably necessary ways of giving humans some awareness of this Supreme Mind. I am a Christian, and became a priest of the Church of England in 1972. But I have an interest in the many diverse ways in which humans have sought spiritual truth, and in trying to understand what these various paths may have to teach. I think the main task for religious believers today is to ensure that their beliefs are conducive to human flourishing and, so far as is possible, to the flourishing of all sentient beings; to relate ancient religious beliefs to the modern scientific world view; and to see their own faith in a truly global context."
Talks are free and everyone is welcome. Doors open at 7pm.
Donations to cover expenses and to support Christian Aid's work to combat the effects of climate change.
Organised by Churches Together in Charlbury.