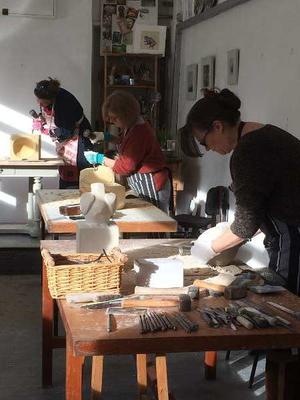 Six mornings - £180
Fridays 10am - 12:30pm
28th February
6th, 13th, 20th, 27th March
3rd April
(one space left!)
Working in small groups these workshops will give you the opportunity to create a sculpture over six weeks. One-to-one guidance will be given at all stages of the process.
Stone carving workshops will cover:
Discussion of preliminary ideas - if you have ideas of what you would like to carve do bring these with you, equally it is fine if you would like to wait and see what the stone suggests!
Demonstration of stone carving techniques and use of hand tools - mallets, chisels, rasps & sandpaper.
Working on own piece with one-to-one guidance at every stage, from 'roughing out' the basic three-dimensional form to completion.
Advice on finishing the surface of the stone.
A good lunch (weekend workshops) and refreshments included.
No experience necessary.
A block of beautiful Maltese limestone & use of tools included (further blocks available at cost price) Eye protection, dust masks and gloves provided, if wanted.
Dusty! - work clothes recommended.
Limited places – To book, or for more information about this and other workshops contact Cathy at:
07450313032
Booking confirmed on receipt of payment.
RAILWAY STUDIOS, UNIT 6, FOREST RD, CHARLBURY, CHIPPING NORTON, OX7 3HH