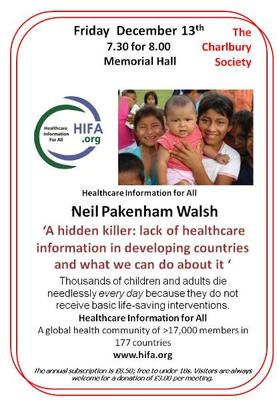 This event is in the past.
The December meeting of the Charlbury Society focuses on the work of HIFA - Health Information for All which operates out of the office in the Corner House in Charlbury.  Co-founded in 2006 by Neil Pakenham Walsh, HIFA aims to improve the availability and use of healthcare information in low- and middle-income countries. 
Every day, tens of thousands of children and adults die needlessly for want of simple, low-cost interventions through lack of knowledge and information.  Come along and hear what Neil and his 19,000 supporters (health workers, librarians, publishers) are doing to spread information and ensure that everyone, wherever they live, has access to the healthcare knowledge they need.  
Memorial Hall 7.30 for 8pm  
Members and under 18s free.  Visitors welcome £3 each