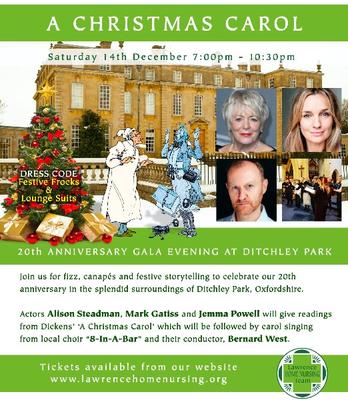 This event is in the past.
Join us for fizz, canapés and festive storytelling to celebrate our 20th anniversary in the splendid surroundings of Ditchley Park, Oxfordshire.
British actors, Alison Steadman, Mark Gatiss and Jemma Powell will read from Dickens' 'A Christmas Carol' followed by carol singing from local choir "8-in-a-bar" and their conductor, Bernard West.
Eight in a Bar is a group of local singers, originally set up over drinks in the Fox in Chipping Norton one evening in 2005 in order to take part in that year's Chipping Norton Music Festival. Seven of the original eight singers still sing regularly with the group, though it now draws from a larger pool of singers, making the number in the name rather misleading. They meet irregularly, mainly to enjoy singing through music accompanied by copious food and drink, but also frequently sing at fundraising events in Oxfordshire and beyond.
A prize raffle will be drawn at the end of the evening in the Great Hall. - Raffle tickets also available  https://www.lawrencehomenursing.org/events/raffle-tickets-on-sale/
Refreshments will be served in the Saloon and Drawing Rooms from 7 pm before we take our seats in the Great Hall at 8 pm to hear a welcome speech from Christian Lawrence, the son of the late, Dr Martin Lawrence, a Chipping Norton GP, who established the charity in 1999.
Dress Code: Festive frocks and lounge suits.
Tickets, £75, to include lots of fizz and canapés are available https://www.lawrencehomenursing.org/events/gala-evening-at-ditchley-park/