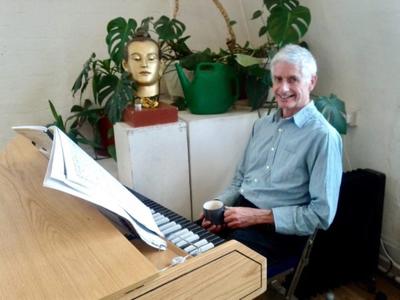 This event is in the past.
Rachel Beckett - flute and recorder
Alastair Ross - harpsichord
Alastair and Rachel have the following programme in mind:
CPE Bach  G minor sonata for flute and obligato harpsichord
Telemann  Fantasia for solo flute
Vivaldi  Recorder Sonata in G minor
Couperin  'Pièce de Clavecin' for harpsichord
Alastair will once again be playing on the wonderful harpsichord donated and tuned by Simon Neal.
Concerts are given in the Memorial Hall and begin at 3pm. Admission is first come, first seated, so we recommend you arrive when doors open at 2.30. 
Tickets £12, under 15s £5, on the door, or in advance from Cotswold Frames. Or email nick.parker@cooptel.net or phone 01608 811558 to reserve.
☕️🍰 Complimentary tea and cakes are served after the concert. 
All proceeds go to refugee and asylum seeker relief