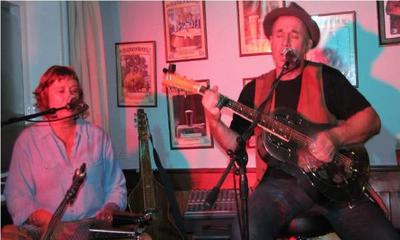 This event is in the past.
On Thursday 14th November it's a delight to welcome back to the Rose & Crown RAG MAMA RAG, who have earned themselves a great reputation as one of Europe's finest Country Blues acts.
Featuring ASHLEY DOW (Henderson Acoustic Guitar, National & Dobro Resonator Bottleneck Guitars, Weissenborn Acoustic Lap Steel, Ukulele and Vocals) and DEBORAH DOW (Harmonica, Washboard, Percussion and Backing Vocals), RAG MAMA RAG create an exceptionally full and hard driving rhythmic sound which soon gets you going!
Ashley and Deborah's repertoire is 20's and 30's Blues based, and encompasses Mississippi Blues, East Coast Ragtime sounds, early Country tunes, Original Compositions, and many other regional styles besides. Don't miss this superb band!
The music starts around 9pm.