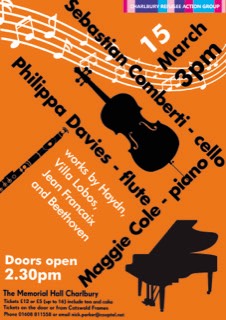 This event is in the past.
🔥🔥🔥🔥🔥🔥🔥🔥🔥🔥

CANCELLED. Details of ticket refunds below.

🔥🔥🔥🔥🔥🔥🔥🔥🔥

Because of the coronavirus pandemic, and the particularly intimate and crowded nature of our concerts, Charlbury Refugee Action Group has reluctantly decided to cancel the Piano, Flute and Cello Recital scheduled for this Sunday.
We hope to reschedule the concert in September or October.
Season ticket holders have already paid £10 for this concert. We can offer you a choice.
Either (1) we can give you £10 off next year's season ticket (that's assuming you will buy one and take advantage again of the fantastic discounted ticket price coupled with the privilege of reserved seating):
or (2) we will refund your £10 now:
or (3) you can convert the £10 into a donation.
Please reply to this email telling us which option you are choosing. If we do not hear from you, we will assume option (3) and add your £10 to the funds we contribute to the refugee charities mainly in Calais and on the Greek islands.
Will you make a donation?
Cancelling this concert means the loss of around £1200 that would have gone direct to refugee relief. If you would like to make a donation to help make up for this, you can make a transfer direct to our bank account 08 92 99 65789036. If you wish to add gift aid, please email us at charlburyrefugee@gmail.com with your name and address and we will send you a form.
Have you bought a ticket from Cotswold Frames?
If so, please email us for details of how we can refund you.
Jon (Secretary)