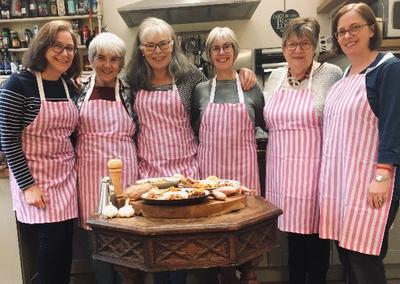 This event is in the past.
🌮 It's the season of feasts and the CRAG Café is back with a selection of wonderfully warming dishes from around the world that celebrate the abundance of autumn and the delights of plant-based eating. 
🥘 Come and sample our satisfying new menu that includes pinto bean chilli, roasted aubergine curry, Brazilian black bean stew, creamy mushroom stroganoff and our amazing autumnal couscous, all served with freshly baked bread (including gluten-free), a selection of garnishes, and a lot of CRAG love! 
🍰 Our brilliant bakers have also been busy preparing gorgeous cakes and sweet treats and we'll be serving fair trade tea and coffee...
☕️ Café open in St Mary's church, 11 to 4.30. Lunch from 12.
All cafė proceeds go to Charlbury Refugee Action Group for refugee relief, mainly in Greece and northern France.
❤️ Come and enjoy! And while you're here, browse the art and crafts on display with Christmas in mind! ❤️