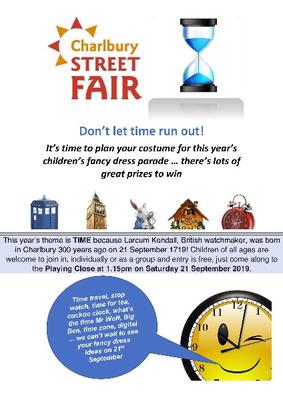 This event is in the past.
Are you a Time Lord, White Rabbit, Peter Pan Crocodile, Marty McFly, Time Bandit, Big Ben, Tardis, Cuckoo Clock, or other TIME character and are you marking TIME ready for the Street Fair Fancy Dress Parade?
If you haven't already guessed, this year's theme is TIME.  
Charlbury's very own Larcum Kendall was born 300 years ago today and Street Fair's theme celebrates the birth of the renowned watch maker.
Children of all ages are welcome to join in the fun.  
Lots of great prizes to win too!
Meet at the Playing Close at 1.15pm.