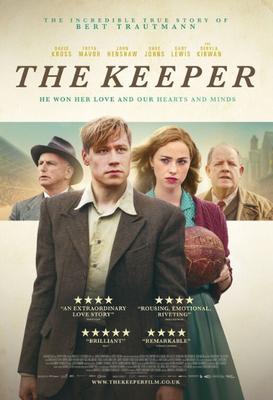 This event is in the past.
Cert. 15 / 2 hrs
The Keeper tells the extraordinary love story between a young English woman and a German PoW, who together overcome prejudice, public hostility, and personal tragedy. While visiting a PoW camp near Manchester at the end of WWII, Margaret Friar (Freya Mavor), the daughter of the manager of the local football team, notices young German soldier Bert Trautmann (David Kross). Her father is so taken by Bert's prowess as a goal-keeper that he gets him out of the camp to play for his local team. Margaret and Bert's love blossoms despite local hostility and resentment of the German PoWs.  
In the meantime, Bert's heroics in goal are noticed by Manchester City Football Club. Rather than going back to Germany like nearly all the other camp inmates, Bert marries Margaret and signs for Man City. His signing causes outrage to thousands of Man City fans, many of them Jewish. But Margaret wins support from an unexpected direction, Rabbi Altmann, a Man City supporter who, despite having fled the Nazis, publishes an open letter opposing the campaign against Bert. 
"A really watchable film, more substantial than most sports movies and many postwar dramas …" Peter Bradshaw / The Guardian
Memorial Hall, Charlbury at 7.30pm
(doors & licensed bar from 6.45pm)
Admission: £5