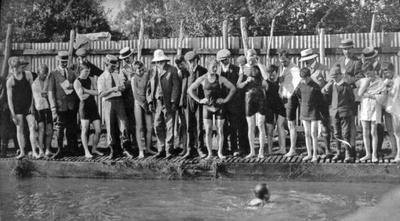 This event is in the past.
Opening as usual Saturday 10.30 am to 12.30 pm, and Sunday 2.30 to 4.30 pm.  Admission only £1 for adults, children free.   See our special exhibition on Charlbury's farms and farmers., and explore the other rooms for Charlbury's history.  
This week's photo shows the Aquatic Sports held in 1908 at the Bathing Place in Watery Lane.