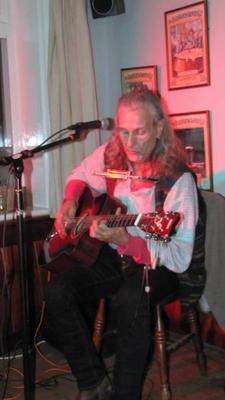 This event is in the past.
Will Killeen, originally from County Mayo, Ireland, is a highly acclaimed acoustic blues guitarist, singer and songwriter. He has a unique style - Celtic roots mixed with American blues. You can expect songs from early blues standards through to Dylan classics delivered with inimitable percussive guitar and whirling vocals. He's also considered to be one of the foremost slide guitar players in Europe today.
Will taught himself guitar from the age of 10 then, influenced by Howlin' Wolf, Doc Watson, The Pretty Things, Robert Johnson, Bob Dylan and the Rolling Stones, to name a few. Soon he was performing around London and once replaced Rory Gallagher when Taste was formed. He plays regularly at countless venues in England, Ireland, Wales, Scotland, Italy, Germany and the United States.
Will is a walking blues history manual, taking you on a journey from Robert Johnson and Elmore James through to an unlikely but brilliant version of "Duelling Banjos" - all on one acoustic guitar!
Will has been playing in Charlbury for over 20 years! Don't miss this outstanding musician! The music starts at around 9pm.