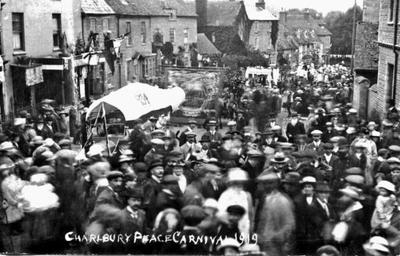 This event is in the past.
The Museum will be open on Saturday from 10.30 to 12.30 pm, and on Sunday from 2.30 - 4.30 pm.   The Visitors' Book is full of names from Canada, New Zealand, Western Australia,  and many UK counties.  Add your name to the list and explore all five rooms for treasures.
One hundred years ago this weekend, Charlbury celebrated the end of the Great War with a Peace Carnival.  Pouring rain hampered the children's sports, but the lunch for returned warriors and the evening dance went ahead in the Town Hall.  On Monday 21st July the sports were completed, a cricket match (married v single) was held, and the  Carnival proper began, with children's and adults' fancy dress and decorated vehicles.  All proceeded from "the sports field" to Nine Acres and then to Lees Rest for a bonfire and fireworks which lit up the country for miles.  See more photos inside the Museum.