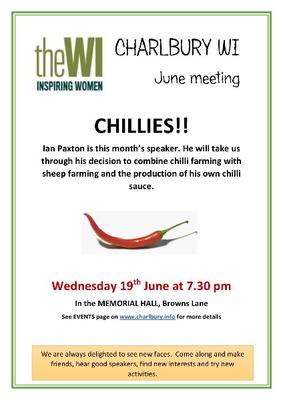 This event is in the past.
7.30pm in the Memorial Hall.
We are pleased to welcome Ian Paxton as our speaker this month.
Ian, is a sheep farmer based at Freeland who needed a use for his poly-tunnels when they weren't being used for lambing. He started growing chillis, a high value crop, and now supplies chillis, sauces, oils etc to farmers' markets, food festivals etc. One of his first forays into selling his chillis was at the Charlbury Farmers' Market.
Visitors are welcome at our monthly meetings (admission £3) and following the talks enjoy a cuppa with us and a slice of cake.
Ladies, think you might like to join your local WI? Why not come along to see what you think!