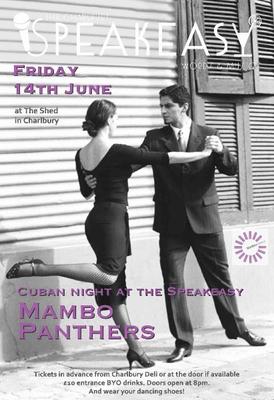 This event is in the past.
SORRY, THIS EVENT IS SOLD OUT.
Cuban Night at the Speakeasy! This is a Speakeasy special as part of the Charlbury Arts Festival.
If the Buena Vista Social Club is your kind of thing, if a cosy music bar in Havana might be your kind of spot, if the salsa moves you, book yourself out for Friday 14th June and come and meet The Mambo Panthers!
Come and learn about the Cuban Mambo – hear the music, ee the dance, if you feel the urge, get on your feet and try it!  
 What other spot in the whole country could be as Cuban as the Shed?
As always we'll be at The Shed, Nine Acres Lane, Charlbury and the doors will open at 8pm for an 8:30 start. But for a change, and in line with other Festival events, tickets will be on sale in advance. You can get them for £10 at the Charlbury Deli or you can take a chance and pay at the door but please note that places are limited.