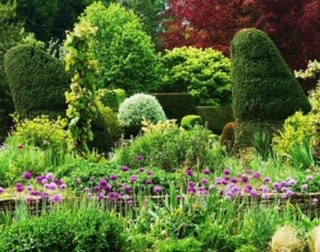 This event is in the past.
Coach outing to the The Courts Garden (NT), Holt and to Abbey House Garden, Malmesbury. 
 NOW FULLY BOOKED!
The Courts Garden is a hidden gem of a curious country garden, shaped by the vision of past owners includes herbaceous borders, topiary, a peaceful water garden, statuary, an arboretum, kitchen garden and a sunken garden. Click here for more information.
Abbey House Garden takes inspiration from the site's monastic and pagan past and uses microclimates to reflect the antiquity of its site. Borders are packed with 2,000 roses and sculpture is a defining feature with a recent emphasis on organic and sustainable practices. More information here.
The coach will leave promptly at 9 am from the Spendlove car park. 
Cost: £30 (£22 NT members). For further information and to book contact Sarah Potter on 01608 810388 or email sarahpotter@btinternet.com.