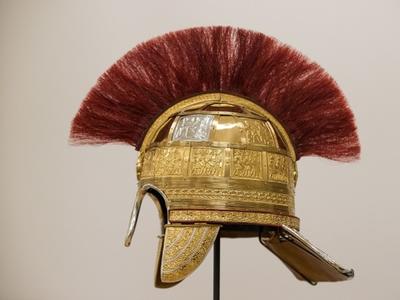 This event is in the past.
Charlbury Art Society  Memorial Hall  7.30
George Speake is an art historian and archaeologist.  He is an Honorary Research Fellow at the Institute of Archaeology at Oxford and a leading authority on Anglo-Saxon animal art.
Currently he is the Anglo-Saxon Art and Iconography specialist for the Staffordshire Hoard conservation team and is working on the reconstruction of the Staffordshire Helmet
George was educated at the Slade School of Fine Art and St John's College Oxford and at the Institute of Archaeology.  
For the past three years he has been working on the reconstruction of the more than 1,000 pieces of the Staffordshire Helmet following work on the Royal Saxon Tomb in Prittlewell
George is author of the book Beasts, Birds and Gods: Interpreting the Staffordshire Hoard, identifying among other characteristics an "eyeless, open-jawed serpent" depicted on the helmet's cheek guard. He will share his latest work and discoveries with us.