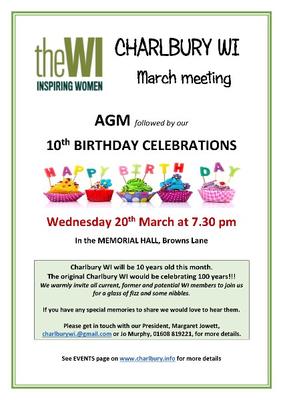 This event is in the past.
 Memorial Hall, Charlbury at 7.30pm.
It's ten years since the Charlbury WI started up following a long break. The original Charlbury WI group would have been celebrating its centenary in 2019 too.
We'd love as many current and former members and potentially future WI members as possible to come along and share the evening with us.
There will be fizz and nibbles to enjoy following this year's AGM.
Some members of the committee are not standing again including Pat Hill who has been a stalwart on the committee since the group reformed. We'll miss you, Pat. Hopefully, other members will be happy to stand for the committee. Committee meetings are held monthly, usually in the week preceding the Charlbury WI meeting.
Look forward to seeing you there.