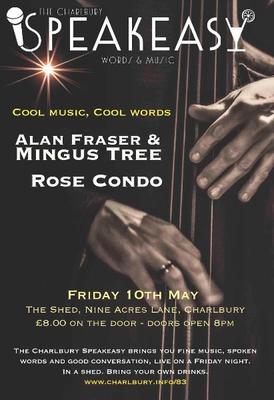 This event is in the past.
This Speakeasy brings you the chance to hear acclaimed Canadian performance poet Rose Condo and her hugely entertaining take on life. (Check her out on YouTube or Google.)
The music of the award-winning Mingus Tree may be familiar to Speakeasy regulars in many contexts but here's a chance to hear the compositions and lyrics of Alan Fraser and John Lanyon as they were meant to be performed.
It'll be mischievous musical lyricism all the way. Don't miss it!
As always we'll be at The Shed, Nine Acres Lane, Charlbury with doors open from 8pm.  Eight quid will get you in but bring your own drinks.