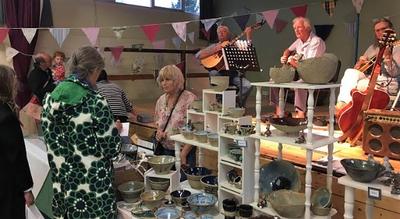 This event is in the past.
Tired of Easter?  Where is the MMM going to next?   Will it be Italy or Indonesia?  There's a whisper it will be Bluegrass sounds, Cajun food and the Knights of Mentis.  All be clear soon!
It is clear now we are going to America with the Knights of Mentis and blue grass music, gourmet pulled pork burgers and cocktails.
We have a newcomer a wonderful potter - Jeanne Jackson with exotic birds on her pots.  Organic cheese from Simon Weaver, Asha Pierces exotic organic chocs.
All the old favourites will be there too, curious bacon, Ellie's Greek Kitchen, the Pie Creator and the Salsa King
Come and support your local makers