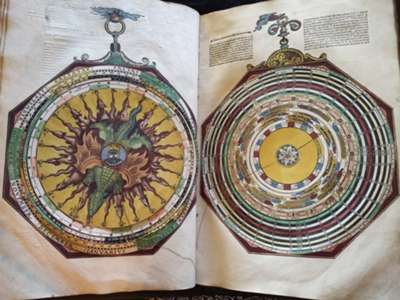 This event is in the past.
Daryl Green, the Magdalen College librarian, will talk about Peter Apian's Typography & Initials.
This talk, organised by the Oxford Guild of Printers, will be held in the 'Green Room' in Charlbury Memorial Hall at 8pm. All welcome.
Peter Apian (1495-1552), also known as Petrus Apianus, was a mathematician, astronomer and printer. His Astronomicum Cæsareum, so called because of its dedication to his patron Emperor Charles V, uses a series of wonderful paper models (or volvelles) of the Ptolemaic system, which could be rotated to predict a planet's celestial latitude and longitude at any time and date. This image from Magdalen's copy, shows how in Ptolemy's model most planets moved around a small sphere (the epicycle) that in turn moved around a larger sphere (the deferent). This is similar to how we now see the Moon as orbiting the Earth and also following the Earth's larger orbit around the Sun.