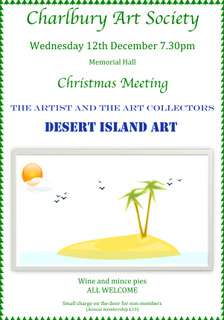 This event is in the past.
Desert Island Art
Robin and Dymphna Farmer will share highlights from their wonderful collection of contemporary paintings and prints. They will be challenged to choose the few that would take to their desert island where they will be joined by painter Jane Crane. Jane will select paintings by artists that have influenced her work and been important to her artistic development.
Wine and mince pies to get into the Christmas spirit.
7.30pm at the Memorial Hall, Charlbury
All welcome. Non-members £3.- entry fee.