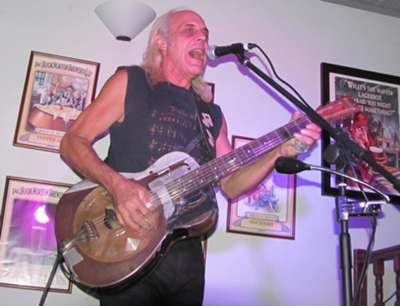 This event is in the past.
Thursday 17th January 2019 marks the return of Kent Duchaine to The Rose & Crown with his trusty 1934 National steel guitar, Leadbessie.
Kent has been playing in Charlbury for more than twenty years, and with good reason! His repertoire of blues classics, coupled with his own songs, together with his stories about his time on the road with the great Johnny Shines, make for a perfect evening!

So even if you think you don't like blues, or if you've never seen Kent Duchaine live, or if you're one of his devoted fans, or if you're just plain curious, get down to The Rose & Crown on the evening of 17th January at around 9pm, where kent will no doubt persude you to "bark like a dog and howl like a hound"!.
You won't be disappointed!