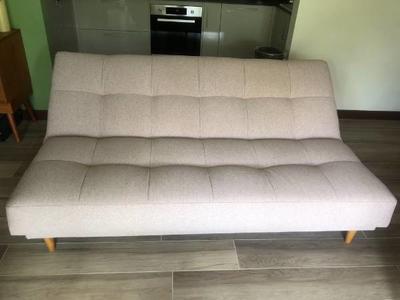 Sit, recline, sleep. Our quilted Linear sofa bed has three positions to choose from depending on just how chill you want your evening to be. Sits like a sofa, sleeps like a bed
When assembled as a sofa the seats are supported by flexible webbing, the same as traditional sofas. This webbing provides great support to the foam and fibre filled cushions, which also benefit from individual pocket springs in the seats. These springs mould to your body when your sitting or lying on them, but then recover back to their original shape when you get up.
Using a 2-fold mechanism it then easily opens up into the bed. This combination of webbing, springs, foam and fibre means it's not a case of either a comfortable sofa or a comfortable bed. You get both. 
£649 new, selling for £250 ono
https://www.johnlewis.com/john-lewis-linear-medium-2-seater-sofa-bed-light-leg/p4263492
please message or call Lindsey 07941 561471
lindsey thompson · Sun 3 Sep, 17:04 · Link