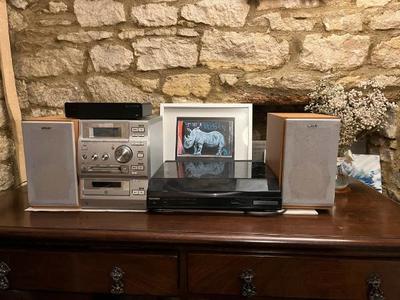 This advert was posted 320 days ago and may no longer be relevant.
We've upgraded our turntable and speakers, so here's our previous stuff - everything you need to plug in and go (except the records themselves). It all works and sounds lovely.
- Vintage Technics SL J110R turntable (hinges are broken on lid, so it doesn't stay up. The price reflects that, and it looks like you can buy replacements online if you want, but all works otherwise).
- Cambridge CP1 MM pre amp
- Sony hi fi with speakers (also has CD, tape, minidisc... No remote control)
- Phono cables included
£150 for the lot. Pick up from Charlbury. Happy to give a little demo of it playing at our place and show you how it all connects up if you're serious about buying.
Rob Stringer · Mon 16 Jan, 23:02 · Link