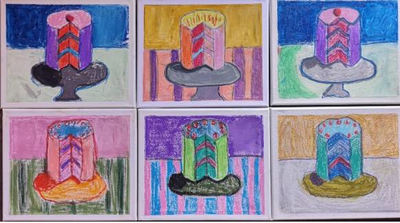 Hello, I will be running 2 fun evening art sessions from the art room in the Corner House, no experience needed, come along and have a go! Creativity and mindfulness in one.
Wednesday 28th September - LEA MAUPETIT & WILLIAM SCOTT You will have the opportunity of painting your own small paintings on postcard size canvases, paint 2 or more, no limit, and experiment with wonderful colour and simple composition taking inspiration from these two artists. 
Thursday 13th October - WAYNE THIEBAUD You will have the chance of creating your very own cake, a simple slice or a decorated extravaganza, your choice, using oil pastels on canvas. 
Time - 7.45-9.45pm. Materials - I supply all materials. Refreshments - a glass of fizz is included. Cost - £20. You of course get to take your masterpiece home! For more information or to book a space please drop me an email to alicepryce22@gmail.com Thanks and I hope to see you! Alice
Alice Pryce · Fri 23 Sep, 09:26 · Link