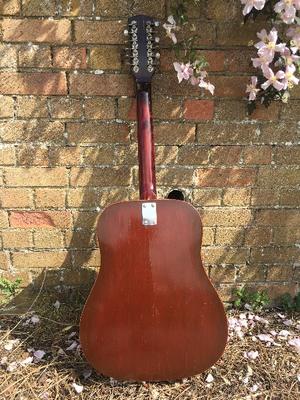 Eros (E.ROS) 612 Nevada Garanzia 12 string guitar from the 1970s.
Beaten up and ugly but it plays well and sounds good. Pickup that looks as old as the rest of the guitar, low output but sweet sounding. The headstock has 2 unsightly but solid repairs, the bridge has a repaired crack, the top laminate is lifting in various places on the body and the lacquer is cracked all over. Someone has painted a brownish lacquer all over the body and it looks a bit like a toffee apple! Frets are low but good and even.
The good news is that it plays really well. Action is low, neck is straight and it holds tune really well. It's had a professional setup and new Daddario strings.
James Goad · Sun 8 May, 11:50 · Link