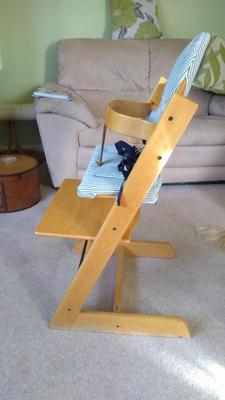 This chair has been used by my grandchildren, who have now all outgrown it as a high chair. Because it has only been used during visits it is still in excellent, very clean condition, with little obvious wear. 
It is ideal for children learning to sit up to the table to eat with the grown-ups.  The chair does not come with it's own tray but I understand that one can be purchased on-line, as an extra, if you wish. I believe that the 'play tray' is the one which will fit this model. The harness is adjustable and the cushion can be removed for machine washing.
As your child grows the chair can be adjusted for their leg length, and eventually can be used as a regular dining chair for either an adult or a child.
£50.00
Contact: Marion Greenfield
Tel: 01608 810896
MARION GREENFIELD · Fri 4 Jun, 15:59 · Link