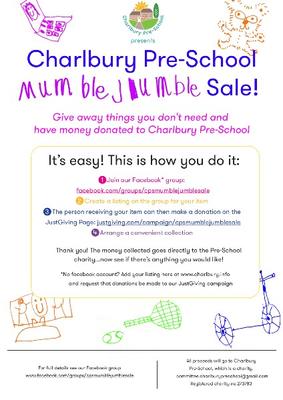 We invite you to join our online mumble jumble sale when selling your items. All proceeds will go to the Charlbury Pre-School. Thank you so much.
Give away things you don't need and have money donated to Charlbury Pre-school.
It's easy! This is how you do it:
1. Post on Charlbury.info and/or join our Facebook group:<https://www.facebook.com/groups/cpsmumblejumblesale>
2. Create a new listing on this group for each item you would like to donate (No electronics please, unless they've been PAT tested).
3. Instruct the person who receives your item to donate to our JustGiving page <justgiving.com/campaign/cpsmumblejumblesale>
4. Arrange for a convenient, Covid-safe collection with buyers.
*Please note that Charlbury Pre-School does not take responsibility for goods exchanged.
Thank you!
The money collected goes directly to the Charlbury Pre-School charity*. Now see if there's anything you would like!
*Registered charity no 273783
Jill Petersen · Tue 23 Feb, 11:19 · Link