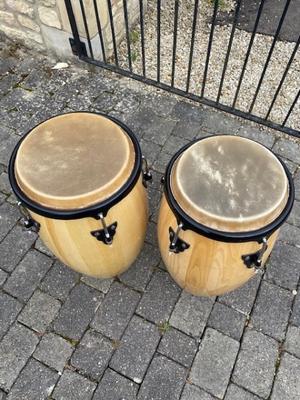 They're the smaller drums in the conga set, Quinto and Conga – 10" and 11".   The heads are traditional rawhide, typically rough-looking and in very good condition.  The shells are wooden, also in very good condition apart from a few tiny scratches and blemishes on the varnish.  The stands are simple steel baskets and are very stable if you play standing up.  
They're unbranded but they feel pretty good and didn't sound at all bad alongside some LP congas I tried recently.
I've played these congas very little and I'd be very happy to see them go to a good home.  I'm only looking for £98 o.v.n.o.  
 Market Street, Charlbury to view or collect, though I can deliver locally if necessary.  For more information, <simonfenn@me.com> or 07828 076358.
Simon Fenn · Fri 31 Jul, 10:30 · Link