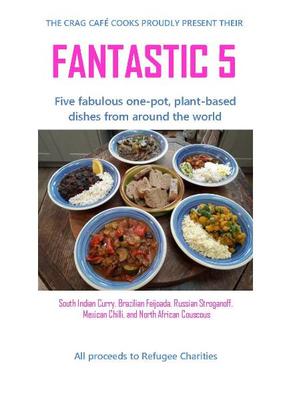 This advert was posted 84 days ago and may no longer be relevant.
Are you finding it hard to think of new things to cook during lockdown? Yearning for a healthy tasty treat?
Now you can take some inspiration from our easy-to-follow recipes and savour the delights of a Charlbury Refugee Action Group café at home. For the very first time we are offering digital versions of our brilliant recipe booklets:
The Full Mezze
Twelve delicious vegetarian recipes with a Middle-eastern twist including falafel, roasted carrot hummus, tabbouleh, chermoula and flatbreads.
The Fantastic 5
Five one-pot, plant-based recipes from around the world including South Indian curry, pinto bean chilli, amazing veggie couscous, Brazilian black bean stew and creamy mushroom stroganoff.
Just email charlburyrefugee@gmail.com requesting one or both booklets, and confirming the sum transferred
(we suggest a donation of £3 for one booklet, £5 for both) and the full PDFs will arrive in your inbox. Please make your bank transfer to Charlbury Refugee Action Group, sort code 089299, a/c 65789036. We ask you not to pay by cash or cheque.
Felicity Brooks · Thu 14 May, 16:47 · Link