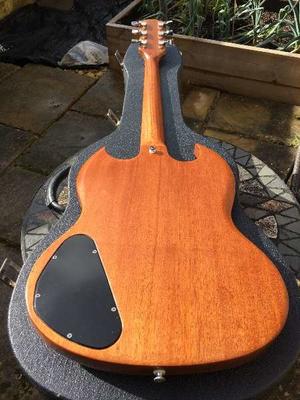 1974 SG special fully renovated. Was brush painted bright red when I got it (see Instagram link at bottom of this listing).
Slim taper neck with narrow nut typical of 70s Gibsons makes this guitar great for people with small hands. Frets are low but fully levelled and dressed with plenty of life left in them. Old headstock repair is totally stable. Finish is natural wood with Shellac sanding sealer and a light waxing with Clear Briwax buffed to a high satin sheen. Neck finish was then cut back to a low satin to keep it super smooth and fast. Some old dints and dings are still visible under the new finish as I didn't want to over sand it. Bloodstone guitarworks wiring (damaged original wiring loom will be included), new Kluson tuners, 3 knobs are original, 1 pickup pole piece has been replaced, headstock veneer is NOS Gibson 1975 Vulcan fibre. Everything else is original except a few control cover screws. PAF mini humbuckers and Schaller bridge with light aluminium tailpiece. The bridge has been modded in the past so that it locks onto the posts with bolts.
One piece mahogany body. The old wood really sings and resonates beautifully.
Pickups measure 5.80 kOhm bridge and 6.00 neck and are bright and louder than the readings suggest. Non original hard case included.
Guitar is fully set up with medium low action and gauge 10 Ernie ball slinky strings.
More pics of guitar and it's renovation available if you want them. £1500 or make me an offer. Jnrgoad@mail.com 07528659591
https://soundcloud.com/jimmylikesfuzz/1974-gibson-sg-special-2-3-20-mix
https://www.instagram.com/p/B9b20szJyiZ/?igshid=g
James Goad · Sat 7 Mar, 15:41 · Link