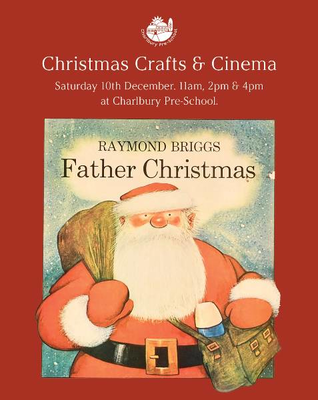 Let's get ready for Christmas together; making Christmas decorations, singing songs, drinking hot chocolate and watching the magical film of "Father Christmas". A cosy, crafty and fun-filled hour to help our little ones get ready for Christmas.
Join our event with a donation for each child. Adults can also make a donation of their choice. Suggested Donation £5.00 per child.
Hot chocolate is provided for children, as well as a hot beverage for adults, and a Christmas decoration to take home.
Please note: this event is aimed at 2 to 7 year olds and all children must be accompanied by an adult.
Run time: 65 mins
Please contact us with any special dietary requirements.
Additional Christmas crafts, popcorn and goods will also be available to purchase.
All proceeds got to Charlbury Pre-School. Registered charity no. 273783
book tickets here: https://www.eventbrite.com/e/christmas-crafts-and-cinema-charlbury-pre-school-tickets-463816476567