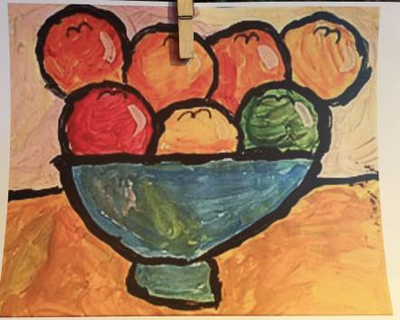 This event is in the past.
THURSDAY 24TH NOVEMBER
Cezanne - Still Life with Apples
All welcome! 
A chance to paint a small canvas, a vibrant still life with apples inspired by the extraordinary Cezanne.
This can be painted in a more traditional style like Cezanne or you could try a more contemporary version painting with brighter colours.
Here are the colourful more contemporary still lifes from the children's Art club session http://www.gomoodboard.com/boards/-IR8NsWi/share
Come along and have a go, no previous experience necessary, a chance to be creative and switch off. Full guidance given and all materials provided.
Time: 7.45-9.45pm
Where: The Art Room in the Corner House, Charlbury
Materials: All materials included. Do bring along an apron if you wish
Refreshments: A glass of fizz/wine is included but please feel free to bring along your own too
Cost: £20
Everyone is very welcome!
If you would like to book a place then please drop me an email at alicepryce22@gmail.com It would be lovely to see you! Thank you.