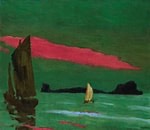 THE SEA! THE SEASIDE!
Artists' views across the years
A talk to raise funds for the conservation of the Pembrokeshire coast by
Juliet Heslewood
Saturday 24th September, 2022
Charlbury Memorial Hall
7.30 pm
There is no fixed entry fee, but donations will be most welcome and will be forwarded to Sea Trust Wales, Registered Charity No.1186160
The sea has fascinated artists since ancient times when it was believed to be the home of gods and goddesses. It served as the location for fabulous stories inspiring illustration from many including the PreRaphaelites and Picasso. Battles at sea, ferocious storms and the security of harbours have all been represented by painters as diverse as Rembrandt, Turner and the Newlyn group. Artists such as Friedrich and Nolde revealed their own responses towards the sea's unique beauty and how human beings relate to it. Today the sea suffers an unnatural kind of peril well known on British coasts - pollution - encouraging alternative ways to represent its sadly threatened life.
"So much plastic trash is flowing into the oceans that 90 percent of seabirds eat it now and virtually every one will be consuming it by 2050".
National Geographic
"A third of fish caught in the UK contain plastic.  Seabirds die due to plastic clogging up their digestive systems."
Mike Perry, Pembrokeshire artist featured in the talk.