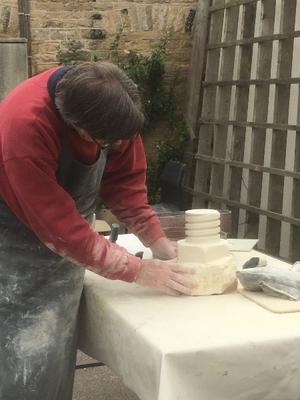 SATURDAYS June 11,18,25, July 2,9,16 
10am-12.30pm 
RAILWAY STUDIOS, FOREST ROAD, CHARLBURY, OX73HH
COST-£160  FOR SIX MORNINGS (plus an additional charge for stone of choice, at cost, approx £10-£40)
COME AND TRY SOMETHING NEW!
In these workshops you will be given the guidance needed to create a small sculpture, from help with the initial ideas for your carving to sanding and polishing your work of art. No experience necessary and no pressure to create a masterpiece!
Coffee, tea and biscuits included.
RAILWAY STUDIOS are on the trading estate near Charlbury station .They are large, bright and airy and there is plenty of parking. There is also space to work outside, weather permitting.  
To book or for more information please email Cathy -  binniecatherine@gmail.com
DETAILS OF UPCOMING WORKSHOPS NOW ON MY WEBSITE
https://www.catherinebinnieartist.com