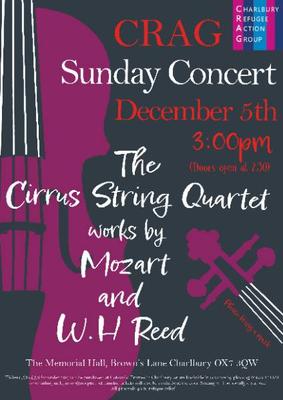 Memorial Hall 3 pm (doors 2.30) Sunday 5 December
The third CRAG Sunday Concert features the Cirrus String Quartet comprising Martin Smith and Suzanne Loze (violins), Morgan Goff (viola) and David Burrowes (cello).
They will perform Mozart String Quartet in D major, K.575, and WH Reed String Quartet no. 5 in A minor.
Cirrus was founded in 1992 by cellist David Burrowes. They are all leading solo and chamber music performers, and between them they have worked with most of the top chamber orchestras in Great Britain.
Amongst their recordings are music for strings and wind by Mozart, string quintets by Mozart and Schubert, Tchaikovsky's sextet 'Souvenir de Florence' and, most recently, the two quartets of Leoš Janáček. ​
In addition to its concert schedule, Cirrus has been recorded by BBC Radio, appeared on ITV, and performed at the Wigmore Hall.
Tickets £12 (£6 under 16s) can be purchased at Cotswold Frames or are bookable in advance by phoning 01608 811558 or email nick.parker@cooptel.net Tickets also available on the door.
We hope to resume refreshments soon but there will be complimentary take-away cake. 
The hall will be well ventilated and the audience will be in socially distanced bubbles. Please bring a mask and wrap warmly.
Numbers will be limited so please purchase or book your tickets soon to avoid disappointment.
Visit our webpage here to read our Covid Safety precautions. Ways to donate to CRAG can also be found here.
All proceeds to refugee relief.