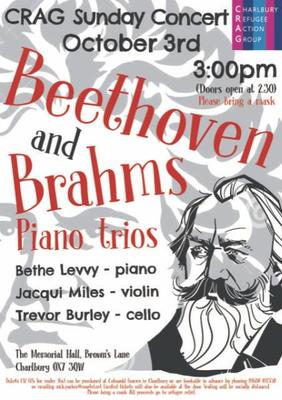 Charlbury Refugee Action Group Sunday Concert. New season begins.
Beethoven and Brahms piano trios with Bethe Levvy (piano), Jaqui Miles (violin) and Trevor Burley (cello).
Memorial Hall Charlbury Sunday 3 October at 3 pm (Doors open 2.30 pm)
Tickets £12 (£6 under 16s) can be purchased at Cotswold Frames or are bookable in advance by phoning 01608 811558 or email nick.parker@cooptel.net
Limited tickets will also be available on the door.
Unfortunately no refreshments can be served as space is needed for socially distanced seating. We will resume complimentary tea and cake after concerts as soon as we feel it is safe to do so. Please bring a mask.
Visit our webpage here. All proceeds go to refugee relief.