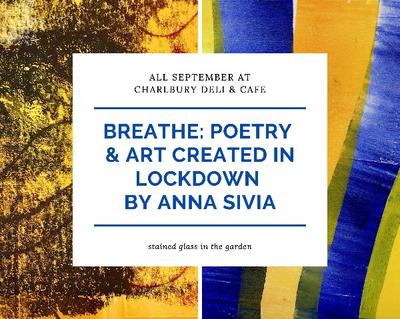 This event is in the past.
During September I am exhibiting my colourful work on the theme of 'Breath' in the backroom of the Deli.
I am showing my book, 'Breathe', which contains a series of poems written during lockdown, along with the individual art work I created for each poem.
In terms of media, I used print rollers and ink, linocut, mono print, watercolour, ink, pastels and wax resist.
All work is for sale, and framed. Unframed prints are available by request. I am taking expressions of interest in a second printing of the book.
In addition, stained glass for the garden in the cafe garden, and stained glass roundels in the window.
www.annagillespieglass.co.uk/poetry
I write as Anna Sivia - annasiviapoetry@icloud.com