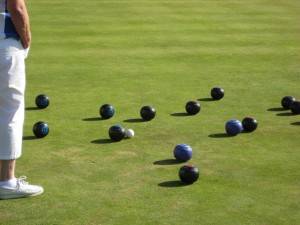 This event is in the past.
Got those post-lockdown blues? Fed up with TV, Netflix and Amazon shopping? Want to try something new? Then why not try BOWLS at Charlbury Bowls Club?
Great exercise, outdoors in the sunshine, learn a game of skill with good tuition, and enjoy the social side at our fantastic clubhouse, grounds and bar.
Getting started cannot be easier or cheaper. All you need is a pair of flat-soled shoes (like trainers) and we can provide the rest. And the first six sessions are free to see if you like it. Even membership is very cheep - just £35 for a normal summer, or £64 for a full year (compare that to Golf!) If you love it, and want to join, because of the truncated summer due to Covid-19 we are offering summer membership at just £12.50 (to third week in September) (Juniors under 18 just £5) and full year with playing indoors until April at £42 (Juniors £12.50 . As a member, you can play every day if you wish for no extra fee!
Just turn up to our Open Days at 2.00pm on Wednesday 29 July, or 2.00pm on Saturday 1 August, or email enquiries@charlburybowls.co.uk for more information or arrange an alternative time. We welcome all aged 11 and over, although those aged 11-17 must be accompanied by someone over 18.