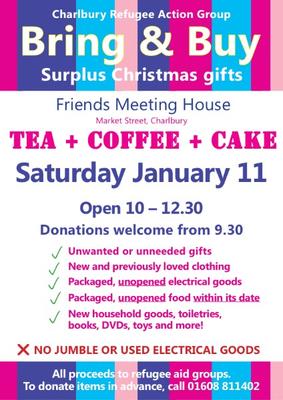 This event is in the past.
🎁 Save those unwanted Christmas presents! 
CRAG's annual Bring & Buy sale is on 11 January at 10am in the Friends Meeting House, Market Street. You can phone Fran on 01608 811402 to arrange collection, or just bring them along to the Meeting House at around 9.30 on the day. 
And the proceeds go to refugee and asylum seeker relief.
It's an ideal opportunity to get rid of unwanted gifts and other treasures, to pick up bargains, and to sample our delicious coffee and home-made cakes.