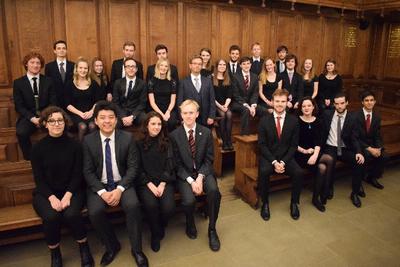 This event is in the past.
A seasonal choral concert by the choir of Somerville College, Oxford, one of the finest mixed-voice choirs in the city.
🌲 Here's the programme for today: 🌲
Clements: The Angel Gabriel
Arr. Cleobury: Joys Seven
See amid the winter snow (with audience participation)
Victoria: O Magnum mysterium
Gardner: Tomorrow shall be my dancing day
Miskinis: Dum medium silentium
We Three Kings (with audience participation)
arr Gritton: Follow that Star
arr. Humphris: The twelve days of Christmas
arr. Wilberg: Ding Dong merrily on high
🌲⛄️🌲⛄️🌲⛄️🌲⛄️🌲⛄️🌲⛄️🌲⛄️🌲⛄️🌲
Hear the choir on YouTube here and here.
Concerts are given in the Memorial Hall and begin at 3pm. Admission is first come, first seated, so we recommend you arrive when doors open at 2.30. 
Tickets £12, under 15s £5, on the door, or in advance from Cotswold Frames. Or email nick.parker@cooptel.net or phone 01608 811558 to reserve.
Complimentary tea and cakes are served after the concert. 
All proceeds go to refugee and asylum seeker relief.